Your home is probably the most personal and important place for you. We understand how much time you've spent making your space feel just right, so we want to make sure we leave it better than we found it! We have several processes we follow when we're in your home. We want to make sure we keep your space looking good and that all of our installations are ready to work reliably for years to come.
Shoe Protection on Every Project
When we enter your finished home, all our staff are required to wear shoe booties. Every time we leave your house, we take them off. When we return, we put our shoe covers back on. We do this to make sure we track zero dirt into your home and leave your floor just as clean as when we arrived, but we don't stop there.
Blankets Down at Work Areas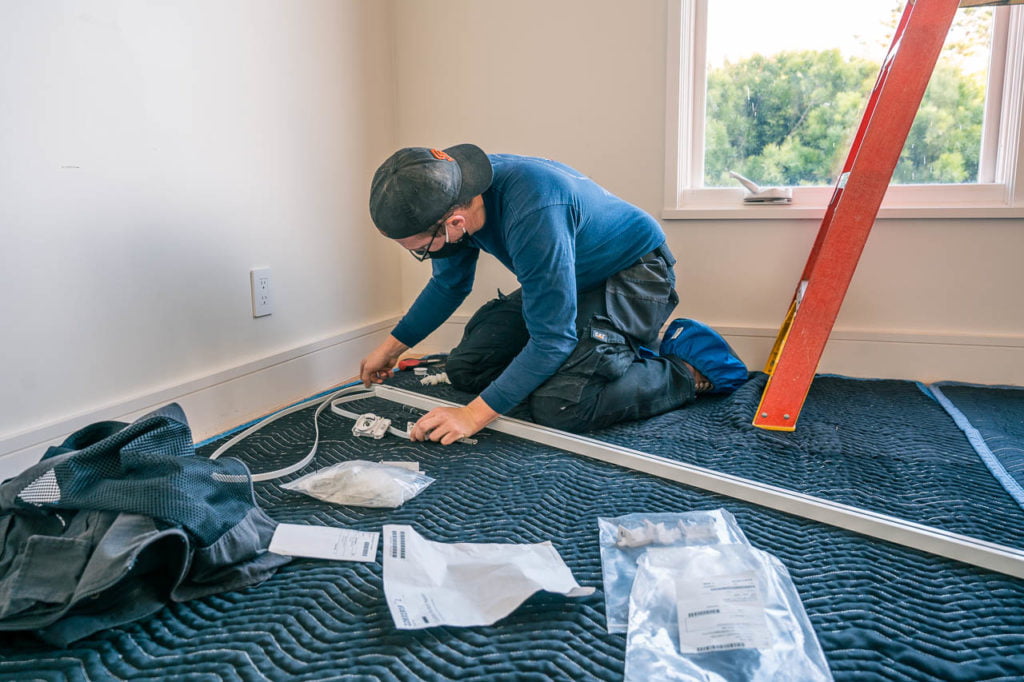 As our highly-qualified technicians walk around your home with shoes covered, they also have work blankets in hand. Our work blankets are made of sheer-resistant material that is tough enough to protect from dropped items and scratches. When we're preparing to work in a part of your home, we cast these rugged work blankets down in a wide enough area to cover where we install products, where we put our tools, our ladders, and unpack products. This keeps your floors clean and protected to keep them free of scratches and loose packing material.
Vacuum Up the Small Messes
Sometimes our work can get messy. Drilling holes into the wall can create dust, and pulling out equipment can create a small mess. Sometimes it goes over our blankets or lands on other finishes such as a fireplace. Regardless, we find it unacceptable to leave you to clean up after us! When the job gets messy, we take care of it. We use battery powered vacuums to clean around our blankets, the ledges of your shelves and anywhere else that gets dirty. If necessary, we then grab a clean microfiber towels to wipe away the dust.
Take Our Trash With Us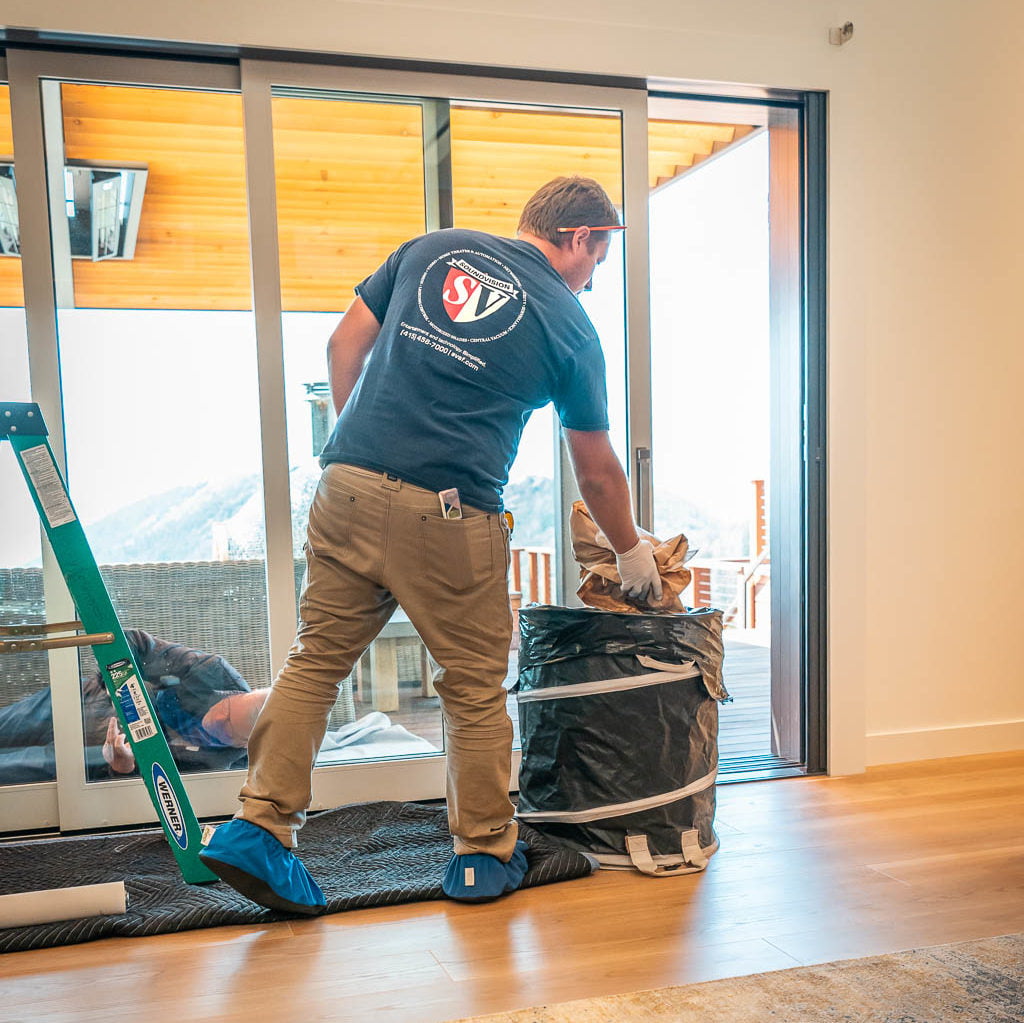 All our products arrive on-site new and in their original packaging, but unboxing them creates a lot of waste. Even if we were just unboxing a TV and soundbar, that would leave a lot of cardboard and plastic that can become difficult to dispose of. That's why when we come on sight to your finished home, we take all of our trash with us. While working, we set up a collapsible trash can for small things like wire splices, plastic wrap and packing material. We bag up this trash and take it with us at the end of our day. It's one of the many small steps we make to be one of your best build partners.
Verifying Systems for You
Do you know what is disappointing? When trade partners come into your home to install something, and it wasn't installed correctly or didn't work right. It happens way too often, both inside and outside of our industry. It taints the entire experience! Before we hand off our installs to you, we test all the primary functions to ensure everything works. We make sure shades can be activated by the correct buttons. We make sure your network is working, with quality coverage around your property. We test your Sonos home-wide audio zones to ensure all your speakers sound good and are named correctly. We calibrate your TV to make sure your picture looks perfect and that your remote works as intended. With every system we install, we don't leave once we can make it work, we leave when we can't make it NOT work.
These are just a few steps and procedures we have here at SoundVision to make sure we deliver systems and experiences that exceed your expectations. Give us a call at 415-456-7000 to see if we would make a good fit for you.
Stay Updated With Our Monthly Newsletter!
Join hundreds of others in the North Bay and get exclusive tips on the latest in home technology and home design.